To register for this workshop, click here.
Regenerations Botanical Garden, in association with Malama Kaua`i, is excited to herald the return of our fruit tree pruning workshop series, at the lush and diverse Kaua`i Food Forest in Kalihiwai.
Proper pruning of fruit trees is an essential practice that keeps fruit within reach, establishes and maintains a healthy form for the tree, encourages flower and fruit production, and more. In this workshop, we will discuss the principles of pruning and then work our way through the food forest, pruning a wide diversity of common and rare types of fruit trees.
Though the principles and practice of pruning will be covered by 1pm, we will continue pruning until about 5pm, so you are welcome to join us throughout the day.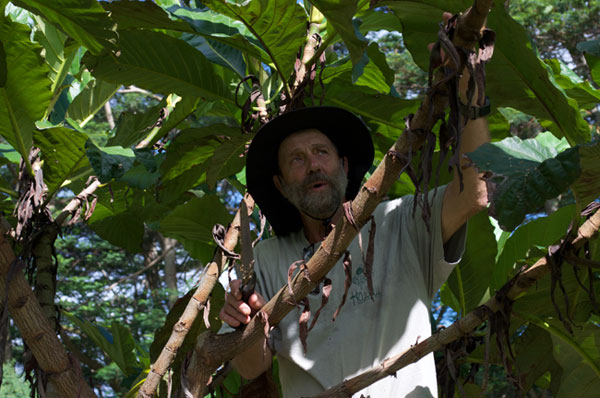 Workshop Instructor, David Whatmore • David has been growing tropical fruit in Kilauea for 30 years and has taken a special interest in tree pruning. He does all of the pruning on his 700 fruit trees as well as advising and pruning at a few other farms. As a member of the Hawaii Tropical Fruit Growers he has toured over 50 other fruit farms observing tree management techniques, and has attended many pruning workshops given by international experts. He has read more than a dozen books on pruning, but hands on experience and seeing the long term results has been the most informative for him. This workshop represents the fourth round of pruning led by David in the Food Forest, so we will be learning how to build on the results of previous pruning, as well as give some trees their first pruning.
To register for this workshop, click here.